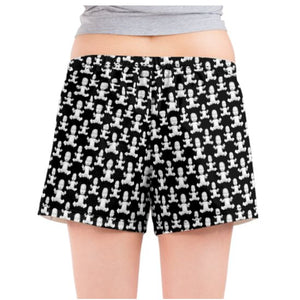 Sleep like a baby with these bespoke & comfy certified 100% poplin organic cotton pajama shorts with pockets. Featuring artskul's classic Baby Pop pattern in black and white, the pajama shorts are fabricated with woven cotton that becomes even softer & more comfortable after the first wash. Crisp, cool, and breathable for your skin at night, the PJ shorts are loose-fitting and maximize your comfort for the perfect night's sleep.  Hypoallergenic & safe for sensitive skin. Sustainably sourced fabric with eco-friendly cotton reactive inks. Handmade to order and hand-sewn in London. Extra small - Plus size.
Size & Specs
Janice Poplin Organic Cotton 3.98 oz

Elasticated waistband

Relaxed fit with pockets

Handmade to order
Shipping & Returns
Express Shipping Available From London. The product is typically ready in 1-3 days after the order is placed. Shipping prices vary and there is no free shipping on these products regardless of the order size. Also, discounts do not apply to these items as they are manufactured on demand.
Because this item is handmade to order, please see the return policy on this item:
If a product is faulty in any way, you can return it within 14 days. See the above link for details. As these are handmade and if the item is not faulty, they are non-refundable after 30 minutes of placing your order.  See the return policy for further information on returns and refund policies.